A chapter of Family Motor Coach Association. (FMCA) We are also grouped with the International Area (INTO) of FMCA. The AlfaSeeYas is a chapter of the FMCA, Chartered on May 19, 2003 at Sevierville, TN at the annual Alfa Owners Rally with 44 charter members. We have over 500 members nationwide.
In addition to quarterly newsletter (AlfaSeeYas Connection) which is oriented towards Alfa motorhome maintenance and repair suggestions, we hold many rallies around the country throughout the year.
Annual dues are $10.00 per coach with a first year application fee of $10.00. You will need to join FMCA first but the AlfaSeeYas will be glad to process the paperwork at the same time they process your AlfaSeeYas application. [Note: New members who join in 2017 will receive paid up dues for 2 years for the $20 fee to join. Existing members - refer a new member and receive 1 year's dues credit for each member you refer!!]
Contact: Ray Zimmermann rayzman89@gmail.com (360) 789-6628
---
Chapter Officers
| Chapter Officers | Names | Contact |
| --- | --- | --- |
| President | Ray Zimmermann | rayzman89@gmail.com |
| Vice President | Randy Scott | rscott@antelecom.net |
| Secretary | Diana Manners | dimanners@hotmail.com |
| Treasurer | Lori Zimmermann | lorizim22@gmail.com |
| National Director | Larry York | lyork5635@gmail.com |
| Alt National Director | Dale Manners | ddmanners@hotmail.com |
| Volunteers | Names | Contact |
| Acting Newsletter Editor | Lori Zimmermann | lorizim22@gmail.com |
| Webmaster | Jeannette Harper | budlinkjt@gmail.com |
---
Event Photos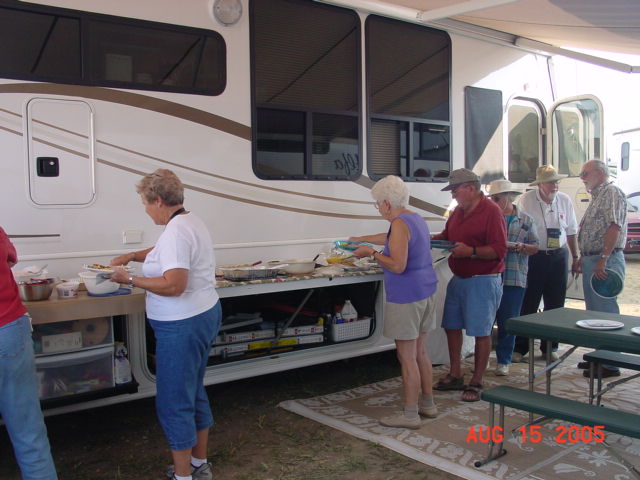 Want to catch a glimpse of where we have been? What events we have participated in?
Click on this photo and then on any of the dates identified in the table. You will see AlfaSeeYa members enjoying themselves and getting together with others.
If YOU have photos you want to share, please contact the webmaster or any of the officers listed above. What will help the most is if you also identify the date(s), place(s) and people found in your photo(s).
See someone or some place NOT identied, feel free to share your information and we will get names, dates and places out there for others.
---
At a glance - upcoming events